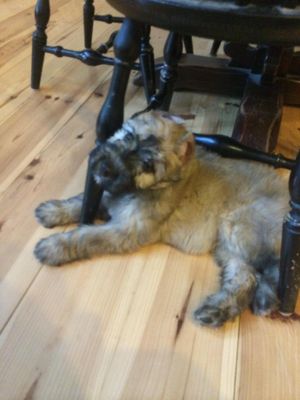 First of all! Thank you for visiting my site!!
I am so excited about this wonderful breed so here is how I discovered the Bouvier :)
I have always been a huge dog lover, I began 30 years ago raising Doberman and later German Shepherds, I found them amazing talented brilliant breeds.. both of them. Though the health issues in both breeds left me heart broken and discouraged as a breeder. I did all the OFA and health testing! I worked for a vet for 15 years so was well aware of the health concerns of both breeds.  I had to neuter my Shepherd male at two years old due to hip dysplasia. He lived to be 7 when his pancreas stopped performing.
 I had decided to research!!! I spent two years doing my homework before choosing a Bouvier:)
They are smart and protective like the Dobes and GSD's but don't have all the health issues!!
(Not that there aren't wonderful breeders and exceptional Doberman and GSD's out there. I will always have a place in my heart for both :)
The Bouvier non shedding was just a bonus for me, it was not a factor when I did my research.  I chose the Euro lines as they just seemed more stable and sturdy. My dogs all live on our farm, they are not always groomed to perfection. They jump in the ponds run through the fields and play in the mud!! They live a dogs life :) 
If this is what you are looking for?
A family member, companion, farm and or family guardian..
Then you have found what you are looking for!!